Mental As Anything
A popular urban myth concerns a group of art students who passed themselves off as a band in order to con the local publican into giving them a gig in exchange for free beer. The deception worked better than intended, and the group came to be known as Mental as Anything. Nearly three decades later, they are still irritating the public with their highly listenable, idiosyncratic brand of garage pop.
A self‐explanatory single to reflect their success, The Nips Are Getting Bigger, rose through the charts and ahead lay a very lengthy pub crawl which only the accomplished could survive. MENTAL AS ANYTHING (Reg Mombassa, Greedy Smith, Martin Plaza, Wayne 'Bird' Delisle and Peter O'Doherty).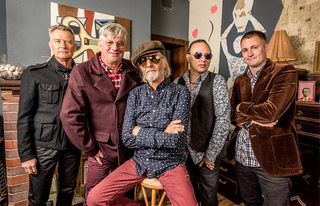 Joe Camilleri and The Black Sorrows
Joe Camilleri, writer of milestone Australian songs such as So Young, Hit and Run, Shape I'm In, Hold On To Me, Harley and Rose, Chained to the Wheel and Never Let Me Go, has given his life to making music in this country. Leader of one of Australia's most successful bands, The Black Sorrows.
The Black Sorrows have earned the reputation as a dynamic live act. At the helm, Camilleri steers the band through an energetic interplay of blues, soul, R&B, gospel, country and even Brill Building pop. The latest incarnation of The Black Sorrows is – Claude Carranza (guitar/vocals), Mark Gray (bass/vocals), John McAll (keyboards/vocals) and Angus Burchall (drums).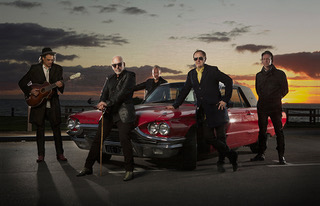 Chocolate Starfish
Starfish burst on to the charts in 1993 with their classic cover of Carly Simon's You're So Vain. A string of hits followed, including Mountain, Four Letter Word and Accidentally Cool.
Singer Adam Thompson, an entertaining frontman, lends the music an air of much-needed theatricality and melodrama. If there's an audience, he'll play up to them, if there's a balcony, he'll climb it, if there's energy in the room, he'll milk it. Currently touring with their Bat Out Of Hell Show.
Adam Thompson – vocals
John "Stones" Nixon – bass
Darren Danielson – drums
Norm Falvo - keys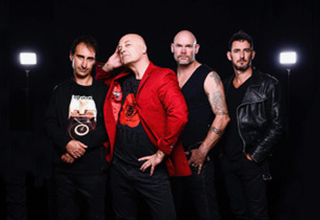 Screamin' Eagles
Capturing the spirit of the legendary "EAGLES"…live on stage. Playing all the EAGLES hits… You can close your eyes and pretend you're at an Eagles gig.
The SCREAMIN' EAGLES line up is 6 x vocals, 3 x guitars, bass, drums and keys… these guys rock it live on stage. The show starts with a dedicated 75 minute Eagles set by these talented musicians who are also very passionate about performing these amazing songs. The SCREAMIN' EAGLES then finish the show with a big party set where they perform many of your favourite great rock classics.
Download Bio (207KB PDF)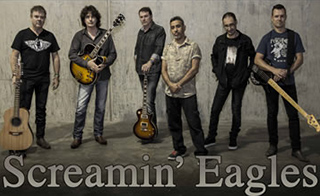 Mick Pealing and the Stars
Stars, the iconic Australian Country Rock band are now back with original lead singer Mick Pealing performing the songs of STARS written by the fabulous Andy Durant. You will hear classic hits such as 'The Mighty Rock' Look after Yourself' 'Last of the Riverboats'' Quick on the Draw'.
This fabulous band bring to life the music from the magnificent Andrew Durant Memorial Concert and the Stars albums. The band features some of Australia's finest musicians including original lead singer Mick Pealing "The Mighty Rock" (guitar/vocals) ex-Stars, Ideals, Spaniards Chris Wilson (keyboards/vocals) ex-Broderick Smiths Big Combo, Buster Brown, Ideals, Angry Anderson, The Giants.Peter Robertson (drums) Spectrum Mark Tonelli (guitar/vocals) Jerome Smith, Broderick Smith, Wilbur Wilde, Alex Formosa, Big & Horny Big Band, Mae Parker. Jo Imbroll (bass guitar/vocals) John Farnham, Broderick Smith, Max Merritt, Brian Cadd, Russell Morris, Goanna, Swanee, Jim Keays.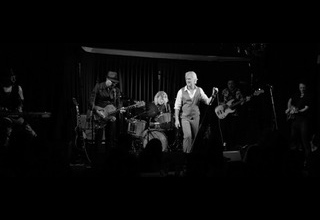 Wingspan
Wingspan, celebrating the songs of Paul McCartney, will take you on a magical mystery tour from McCartney's years of Beatlemania to his blockbuster solo career and of course through the Wings mega hits of the 1970's. This Wingspan line up presents the amazing Talents of... Chris Doheny: (Vocals, Bass, Piano & Guitar) Geisha and The Voice of the Footy Show. Shaun Gardener: (Guitar & Vocal) 21/20, GMA & Live And Kicking. Alby Stefani: (Keyboards & Guitar and Vocals) Geisha . Paul Monger: (Drums and Marathons) 21/20 & Hollywood Zoo. Pat Carroll: (Guitar, Bass & Vocals) The Voice.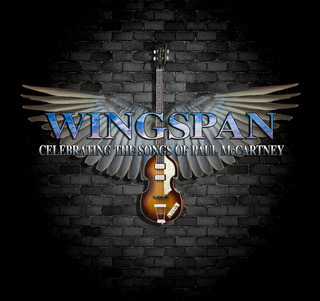 COOL Change
A Tribute to the Aussie Rock Legends who became The Little River Band:
Join us in celebrating the musical journey which began in the '60s and '70s with iconic Aussie acts, The Twilights, Axiom, Zoot, Mississippi, Johnny Farnham, and Little River Band, including hits first performed by Cold Chisel, Bobby Darin, The Hollies, The Beatles.
Featuring hits including; Needle in a Haystack, Arkansas Grass, Little Ray of Sunshine, Sadie, Eleanor Rigby and Dream Lover etc. through to LRB's biggest hits including, Reminiscing, Help is on Its Way, Lonesome Loser, Curiosity Killed the Cat to the LRB/John Farnham classics of Help, We Too, When the War is Over, and Playing to Win.
Come and join us to enjoy a huge slice of Aussie music history with, COOL CHANGE – The Little River Band Story.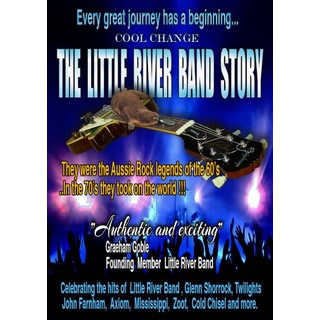 Jacuzzi Masterpiece
Jacuzzi Masterpiece is Michael Caruana and Aaron Saxon with special guest drummers, Cliff Raux, George Sevanis, Trevor Green & Todd Byrnes. Michael Caruana is the "Funkmeister", with a successful career spanning 4 decades. He has played with some of Australia's well known acts such as The Angels, UnCanny XMen, The Truth, John Butler Trio, Bomba, Mama Kin & Melbourne Ska Orchestra. Michael's passion has always been all things funk, and is now creating some funky groves as Jucuzzi Masterpiece.
Aaron Saxon is a multi instrumentalist / vocalist, composer who has been performing professionally since the age of eighteen. He has worked extensively in all aspects of the music industry, playing for television, radio, concerts and various albums. He has been described by many as one of the top musicians in his field.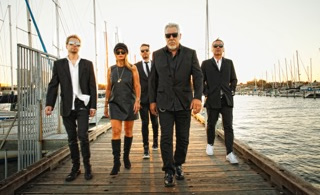 Turk Tresize
Turk Tresize is the embodiment of dusty backroads, Australian rock 'n' roll. Turk's music drifts through the best decades of Rock 'n' Roll and takes his listeners on a story-telling trip through time.
Turk has managed to perform music across the globe, operate a successful annual music festival and launch a record label that released his highly-touted debut album, Soul Casino. Turk continues to tell his intriguing story in the form of song with his sophomore album, If It Is to Be.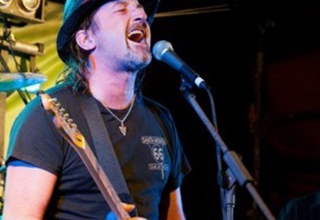 raw brit
featuring Mick Pealing (Stars, Ideals, Spaniards) on vocals/guitar, Bob Spencer (Skyhooks/Angels) on guitar/vocals, John Favarro (The Badloves) on bass/vocals and Peter Maslen (Boom Crash Opera) on drums/vocals is a hard rockin' four piece specializing in British rock from the 60's and 70's, names such as Free, Bad Co, Led Zep and Cream fill the repertoire with unforgettable classics. Lately the band have been performing their Classic Album Series where recordings such as Deep Purple's Machine Head, Bad Company's first album and recently Status Quo's 12 Gold Bars have been played in their entirety, these shows also include Scott Griffiths on Keyboards, guitar and vocals.
Get your dancing shoes on - the Raw Brit shows are not to be missed.
Paul Janovskis plays Cattletruck
Ahhhhh...the heady 80's....what they lacked in taste, they made up for with swagger and slight pretension.
It was an incredibly fertile period for Australian music. During that pre-internet, pre-playstation era there was no shortage of venues or crowds, and few better entertainment options than live rock'n roll.
It has been 30 odd years since Cattletruck launched into this maelstrom, as an irreverent semi acoustic punkabilly covers outfit. Starting amidst the vibrant St Kilda scene, the band quickly gained notoriety as the enfant terrible's of inner Melbourne music. They would play anywhere, anytime, invited or not - crashing parties and other band's gigs! Heck, their first big show was opening for Public Image Limited to a full house at the Pier Hotel, armed only with 2 acoustic guitars and a drummer they'd never played with before!
Fearless......and went down a storm.
The band went electric, earned a following, developed their songwriting, and performed many many shows nationally.
A major record deal, mainstream exposure, a series of well-received singles and an album followed before grinding to a halt in '88.
At this 30 year milestone Singer/Guitarist Paul Janovskis has decided to revisit his past for a limited series of appearances. Janovskis will be performing all of his successful 80's Singles with a crack five piece band including original keyboard wiz, Philip Viggiano. This will be fun!